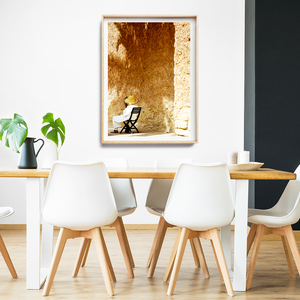 Client feedback: " I will forever be in love with this @clairestelleprintshop Marrakech print. I love the shadow of the date palm and the colours are perfection. Her work is incredible! I also love how the shadow play on the walls of the lower right hand side look like there is a lion in the corner. Can anyone else see it or is it just me? Lol" This Photographic Print is part of the 'World Travel' Series available via the print shop.
Striking set of 3 Prints ~ sending this black & white set of prints off this week to old London town, a home of 7 years for me, I loved living there. This series was taken whilst road tripping and hiking through the South Island of NZ, such a beautiful part of the world!
Sending LIQUID SILK IN BLUE ~ from the 'New Zealand in Colour' print series all the way to NYC today, in a very big 'A0' size. I captured this photograph one cool morning in the South Island, the air was crisp and all I could here was the running water ahead as we hiked the path towards the top of the Glacier..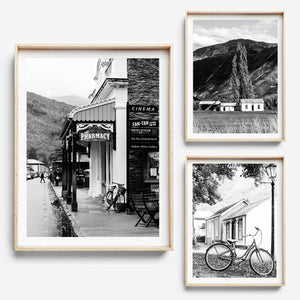 Arrowtown collection ~ A recent triptych put together for a lovely lady here in Brisbane. Arrowtown is a gorgeous little place to visit in New Zealand, have you been there?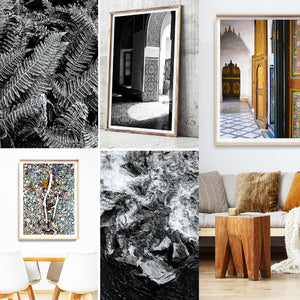 MOROCCAN RUSTIC with a dash of New Zealand ~ A private collection of prints ~ A beautiful little collection selected by a client in the NT. Some really rustic, warmth going on here in this series. A selection of photographic prints from Morocco and the natural elements of beautiful NZ. Printed in A3 size and professionally framed by the client